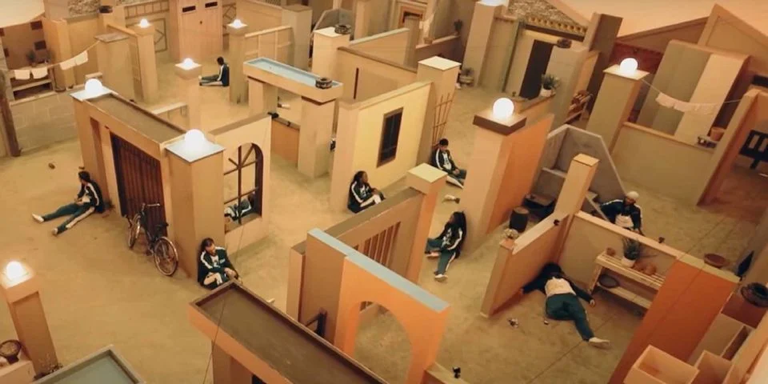 Speaking of MrBeast: MrBeast (aka Jimmy Donaldson) created a copy of the Squid Games set. 456 real people competed (non-fatal) for $456K in prize money.
Why this matters #1: The video has garnered 197M views over the past three weeks, which would be the most-watched video of 2021.
Why this matters #2: It is creativity like this, along with a $48M annual production budget, that has made MrBeast the back-to-back YouTube creator of the year.
Quote from Jimmy Donaldson – YouTube creator:
"I remember when I'd be excited if a video broke 10 views lmao.  I'm literally living the life 13 year old me would dream of every night and I'm super grateful."
Video #1: $456,000 Squid Game In Real Life!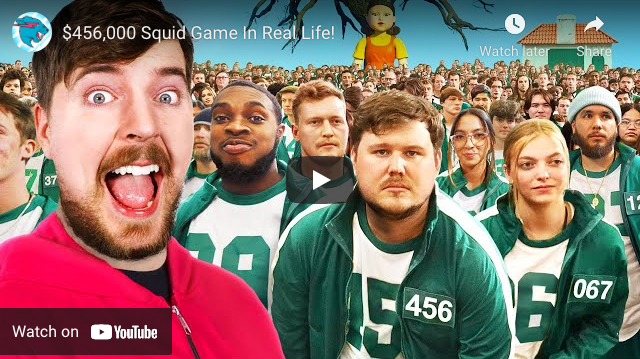 Key details for MrBeast's version of Squid Games:
1) Uploaded November 24th
2) The set cost $3.5M to build
3) 25 minutes in length
4) 197M views
Quick math for production cost per minute between Netflix and MrBeast:
1) Netflix spent $21.4M to develop Squid Games
2) Mr. Beast spent $3.5M
3) Netflix version runs ≈ 492 minutes
4) Mr. Beast version runs 25 minutes
5) Netflix spent $43,500 per minute
6) Mr. Beast spent $134,600 per minute
Flashback: Netflix Is Winning Streaming's Squid Game
Video #2: Making MrBeast's Squid Game in 10 Days