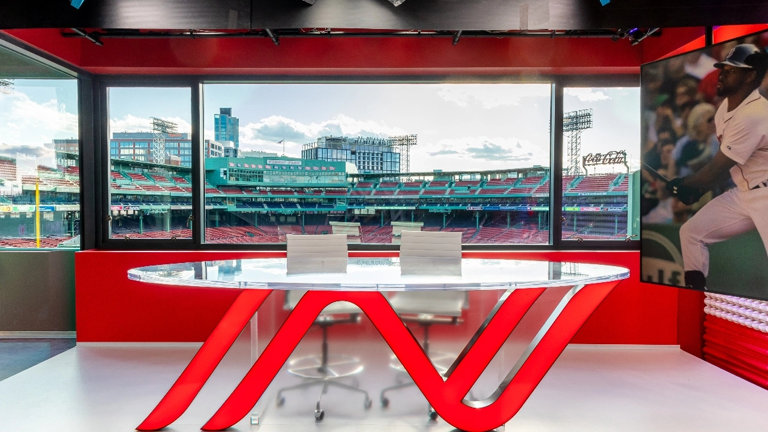 Big news: NESN (New England Sports Network) announced their streaming offering (NESN 360) for customers in the New England area.
Why this matter #1: Before now, the only way to access NESN (locally) was through a pay-TV subscription.
Why this matters #2: NESN is the first regional sports network (RSN) out of the gate, but they will be followed quickly by Bally Sports (Sinclair) in June at $20/month.
Flashback #1: Will Local Streaming Be A Game-changer for Sports Broadcasts?
Flashback #2: Bally's Bets Big on Sports Networks
Key details for NESN streaming offering:
1) 220 Boston Red Sox and Bruins games
2) $30/month
Big question #1: Does this cost the same as through pay-TV?
Quick answer: No.  It is ≈ 5X more expensive outside the pay-TV bundle.
Monthly cost comparison for NESN:
1) Pay-TV bundle – $5.14
2) Direct – $29.99
Monthly subscriber fees for priciest RSNs according to Sportico:
1) YES Network – $6.49
2) Fox Sports Detroit – $5.99
3) NBC Sports Chicago – $5.71
4) Spectrum SportsNet LA – $5.33
5) Fox Sports Arizona – $4.84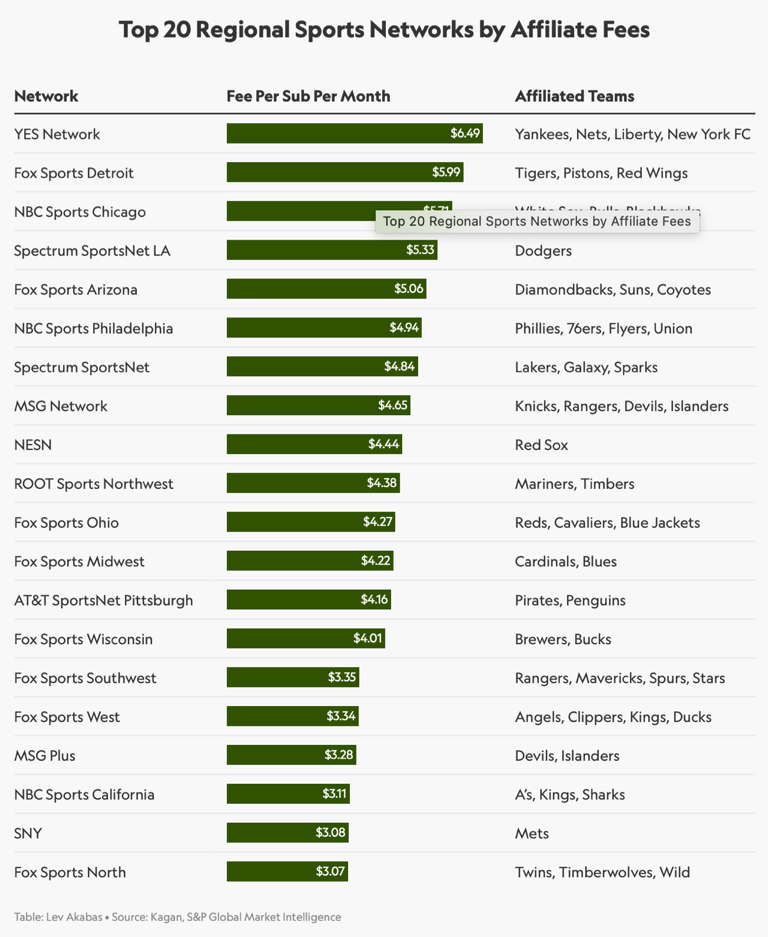 Average RSN monthly cost (% change):
1) 2019 – $2.61
2) 2022 – $3.53 (↑ 35%)
Average revenue per subscriber (YoY growth) for regional sports networks according to S&P Market Intelligence:
1) 2015 – $2.50 (↑ 14%)
2) 2016 – $2.60 (↑ 4%)
3) 2017 – $2.90 (↑ 12%)
4) 2018 – $3.10 (↑ 7%)
5) 2019 – $3.30 (↑ 6%)
6) 2020P – $2.60 (↓ 21%)
7) 2021P – $3.70 (↑ 42%)
8) 2022P – $4.00 (↑ 8%)
9) 2023P – $4.30 (↑ 8%)
10) 2024P – $4.50 (↑ 5%)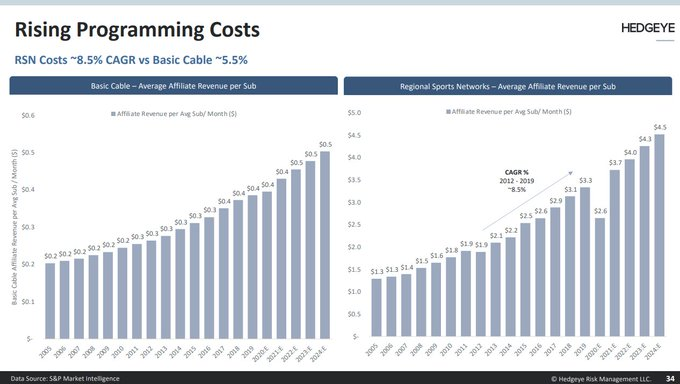 Big question #2: Why does it cost more direct than through a pay-TV bundle?
Quick answer: If they priced it too close to the pay-TV bundle, pay-TV providers would drop the RSN from their base package, resulting in a drop in revenue.
Quote from John Ourand – Media Reporter @ Sports Business Journal:
"Sinclair arrived at the price points for its plan through carriage negotiations with cable operators, according to several sources. During Sinclair's recent carriage negotiations, including its recent talks with Charter, distributors have demanded that Sinclair price its upcoming DTC service at a monthly rate that's around three times higher than the rate top distributors pay.
The streaming service's asking price illustrates just how tough the model is to stream RSNs. That's because Sinclair has to balance the economics of the legacy model with the desire of cable operators to try and protect that model."

Big question #3: How many pay-TV subscribers regularly watch an RSN?
Quick answer: ≈ 10-15% of pay-TV subscribers regularly watch their local RSN.
Big question #4: Why aren't more teams/leagues going direct to consumer?
Quick answer #1: The economics currently don't work.  $5/month from 60M+ households = $300M/month.  At $20/month, you would need to sign up 15M households to replace that revenue.
Quick answer #2: Local rights are not owned by all leagues.  For example, Major League Baseball allows each team to sell its local linear and streaming rights.  Teams in large markets (Los Angeles Dodgers, etc.) make a killing from local media rights and oppose attempts to centralize revenue and split equally across the league.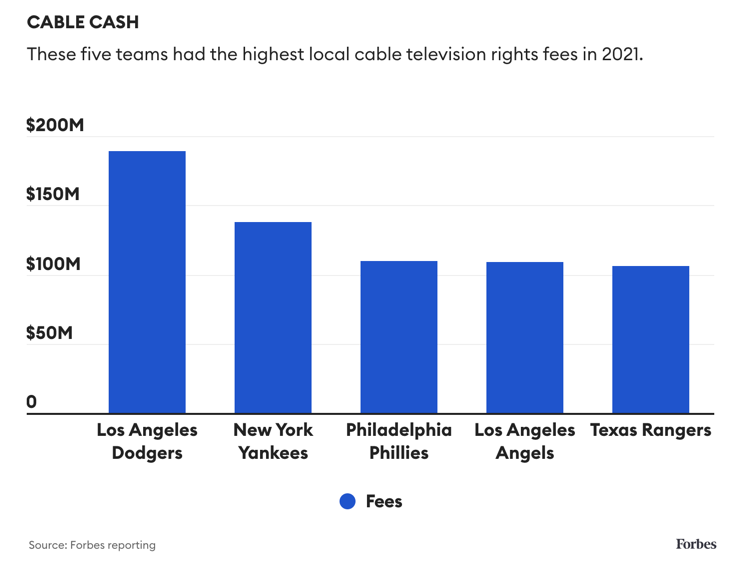 Flashback #3: The Dodgers Are on a Roll but Fans Remain in the Dark Amid Cable-TV Dispute
Outstanding questions:
1) Will getting an RSN without pay-TV lead to an acceleration in cord-cutting?
2) At what point do pay-TV providers (Comcast, Charter, etc.) start dropping RSNs from their base packages?
3) If pay-TV providers do start doing this, will the economics work (fewer subscribers paying a higher monthly fee, etc.)?