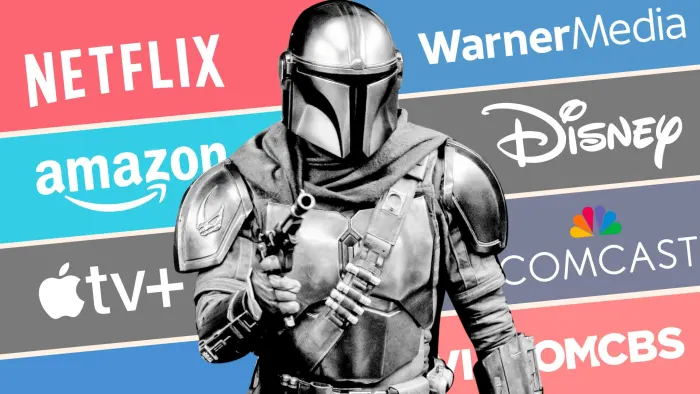 Peak TV is expensive: Producing all of this new content will cost  ≈ $141B (including sports rights) for the U.S. market and ≈ $233B globally this year alone.
Quote from John Sloss – Founder and CEO @ Cinetic Media:
"The real headline in 2022 is how much money has been allocated to the platforms for content.  It is just mind-boggling."
Estimated U.S. content spend by network (YoY growth) in 2022 according to Wells Fargo:
1) Disney – $33B (↑ 8%)
2) Comcast – $26B (↑ 2%)
3) Warner Bros. Discovery – $22B (↑ 8%)
4) Netflix – $19B (↑ 13%)
5) ViacomCBS – $16B (↑ 7%)
6) Amazon – $13B (↑ 24%)
7) Apple – $8B (↑ 35%)
8) Lionsgate – $2B (↑ 5%)
9) AMC Networks – $800M (↑ 4%)
10) Total – $140B (↑ 10%)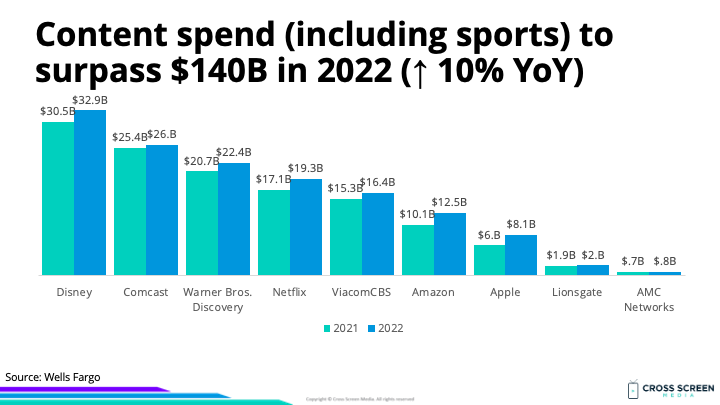 Estimated U.S. content spend by type (% of total) in 2022:
1) Non-sports – $115B (82%)
2) Sports – $25B (18%)
3) Total – $140B
Interesting: Ryan Faughnder @ the Los Angeles Times asks, "are we sure streaming is a good business?" since keeping viewers' attention requires constantly putting out new shows and movies.
Quote from Michael Nathanson – Analyst @ MoffettNathanson:
"The truth about content spending for media companies looking to make [direct-to-consumer] pivots is there is no real end in sight.  Whereas media companies before could only program around limited linear time slots during the day as well as their own studios' release strategies, thanks to the unlimited, endless potential of content on streaming services, this level of spending should continue to ramp for any company that can afford to compete."
Why this matters: Spending on content accounts for ≈ 50-70% of revenues even before customer acquisition costs (CAC) are factored in.  Streaming services pay $50+ to get new customers (CAC) and don't break even for at least 5-10 months from that cost alone.
Flashback: Does More Content Actually Mean Less Churn?
Outstanding questions:
1) What upward pressure does this content spend put on subscriber prices?  For example, Netflix recently announced an 11% price hike, but their YoY content spending is growing by 13%.
2) What share of monthly revenue per user (ARPU) is from advertising in 2022?