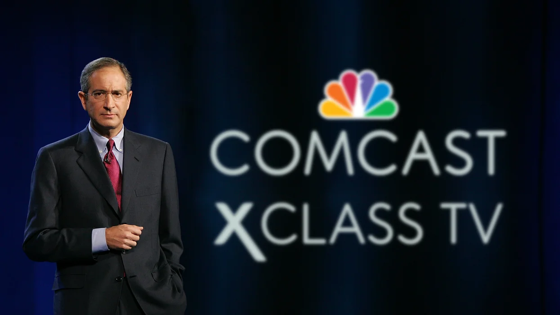 Big news #1: Comcast continues to prepare for a post cable TV future by launching a new streaming device (XiOne) and upcoming smart TV (XClass).
Flashback #1: Alexa, Turn on My Amazon TV
Why this matters: The race to be the dominant smart TV operating system (OS) will be a global battle. Most markets are behind the U.S., with some estimating 42% of the global market is still up for grabs.
FYI: This streaming device is available outside the Xfinity footprint in the U.S. and Italy/Germany for Sky TV customers.
Quote from Alan Wolk – Co-Founder/Lead Analyst @ TVREV:
"The key to controlling the television industry in the years ahead rests with the interface, as the companies that control that platform will control access to programming."
Key details for upcoming XClass smart TV:
1) Runs X1 operating system
2) Manufactured by Hisense
3) Two models (43 inches and 50 inches)
4) Includes one year of Peacock Premium
Quote from Brian Roberts – CEO @ Comcast:
"We're looking at smart TVs on a global basis, and we're wondering: Can we bring our tech stack, or certain capabilities in aggregation, to consumers who are relying more and more on smart TVs?"
Flashback #2: The Smart TV Wars Heat Up
Big question #1: What does Comcast gain from selling their TV powered by the X1 operating system?
Quick answer #1: Ad inventory.  AVOD services give a cut of their inventory to smart TV platform/OS providers.
Quick answer #2: National footprint.  Unlike traditional pay-TV providers (Comcast, etc.), streaming is national/global.  Comcast would have a foothold for a nationwide global video service (Flex, Xumo, Peacock, etc.).
Quick answer #3: Control.  At launch, Amazon/Roku blocked Peacock. Owning a smart TV platform/OS eliminates those conflicts and keeps Comcast close to the customer.
Big question #2: What is going on with NBCUniversal and YouTube TV?
Quick answer: YouTube TV is threatening to drop 15 NBCUniversal channels when their carriage agreement expires on September 30th.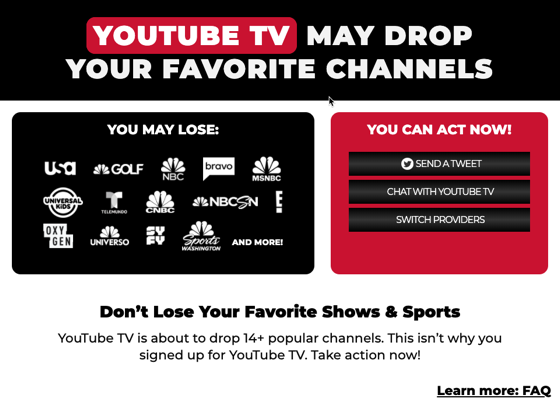 Why this matters: Yet another example of power shifting from the content creator (NBCUniversal) to gatekeeper (YouTube TV). If the two parties do not agree, NBCUniversal will lose ≈ 5% of its pay-TV customer base.
Interesting: Google is offering to drop the monthly price of YouTube TV by $10 (15% – $65 → $55) if they can no longer offer NBCUniversal channels.
Video: YouTube and NBC Dispute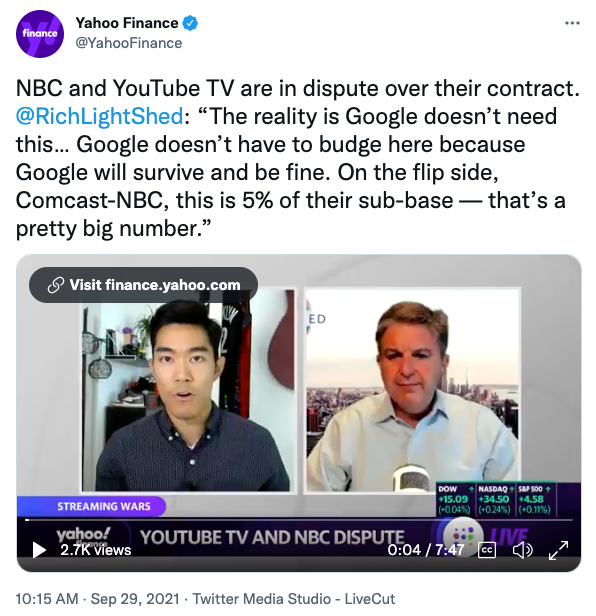 More: A New Generation Of Smart TVs Is Changing The Way We Watch TV