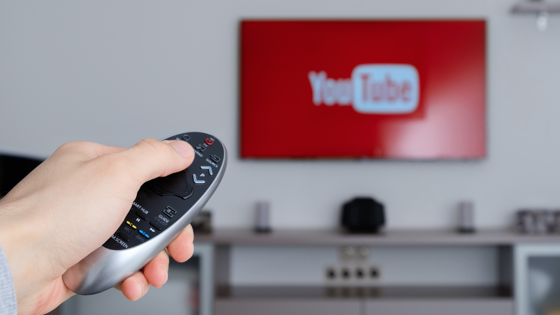 YouTube advertising revenue (YoY growth):
1) 2017 – $8.2B
2) 2018 – $11.2B (↑ 37%)
3) 2019 – $15.1B (↑ 36%)
4) 2020 – $19.8B (↑ 31%)
5) 2021 – $28.8B (↑ 46%)
Revenue comparison (YoY growth) for 2021:
1) Netflix – $29.7B (↑ 19%)
2) YouTube – $28.9B (↑ 46%)
Why this matters: Netflix generated more revenue in 2021, but YouTube is growing twice as fast.  YouTube generated higher revenues in 2021-Q4, which is likely to continue in the near term.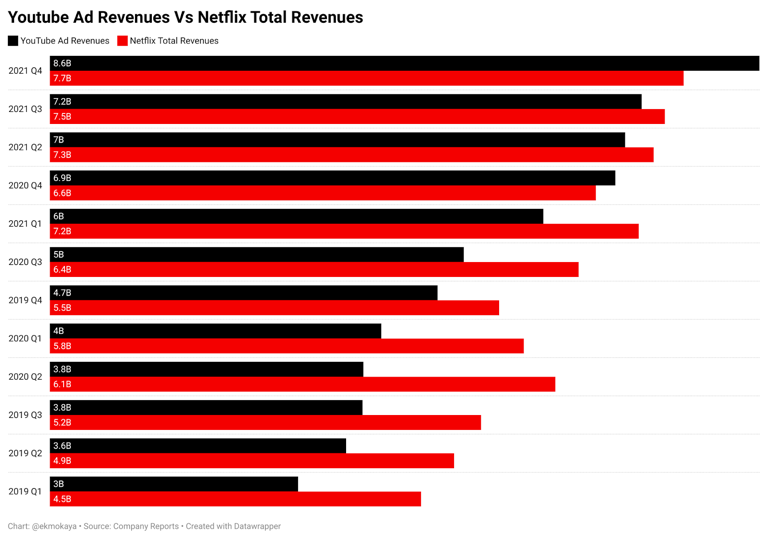 Big question #1: What share of the U.S. video ad market does YouTube account for?
YouTube's share of U.S. video ad market according to eMarketer / Cross Screen Media:
1) 2019 – 4%
2) 2020 – 4%
3) 2021 – 6%
4) 2022P – 6%
5) 2023P – 7%
Big question #2: What share of TV viewing does YouTube account for?
Quick answer: ≈ 6%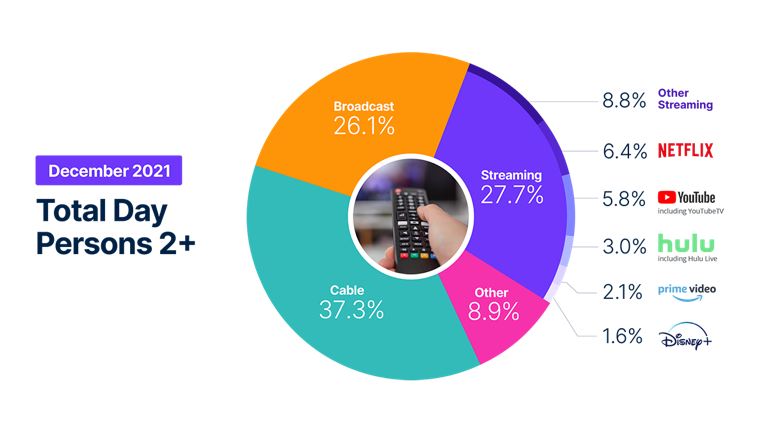 Wow: In 2019, YouTube's ad revenue was close to the combined total for NBC/CBS/Fox. Since that point, Youtube has grown revenue by 90% while national network TV has declined by ≈ 2%.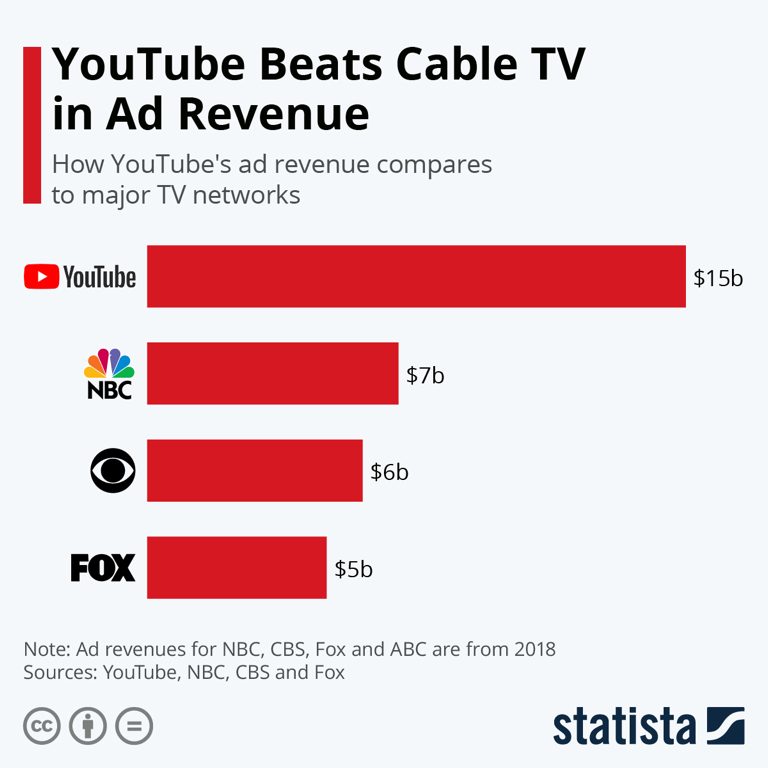 Big question #3: Does YouTube spend similar making original content as other streaming services?
Quick answer: No. YouTube is not a big upfront spender on original content.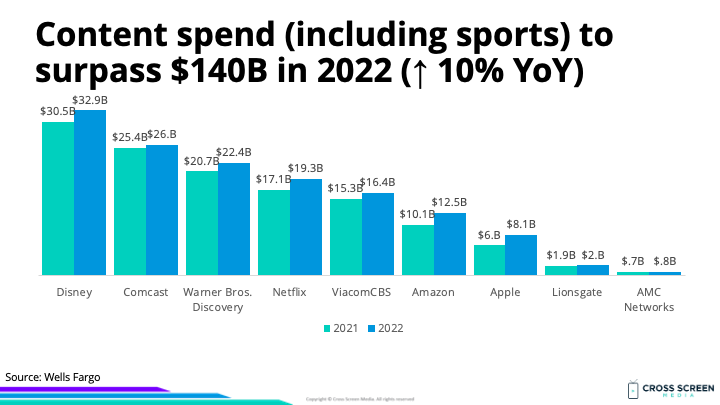 Why this matters: YouTube is not reliant on high-production original scripted programming that requires upfront costs.  Rather they developed a monetization platform where 2M+ creators can generate revenue from their content.
Big question #4: Does this mean YouTube does not have content costs?
Quick answer: No.  YouTube pays out ≈ $10B per year to their 2M creators.  The difference is this is a share of revenue rather than upfront cost and comes with less risk to YouTube. The creator takes on the risk of creating the content in hopes a big audience will watch it.
Quick math on YouTube creator model according to Andrew Rosen @ PARQOR:
1) 2M+ creators
2) Mr. Beast creates 25 videos per year
3) 0.1% of creators create at the same pace
4) 0.1% * 2M = 2K creators
5) 2K * 25 = 50K videos per year
Why this matters: YouTube can distribute 50K high-quality videos on its platform at little/zero upfront cost.
Bottom line #1: YouTube has been developing monetization tools over the past 14+ years.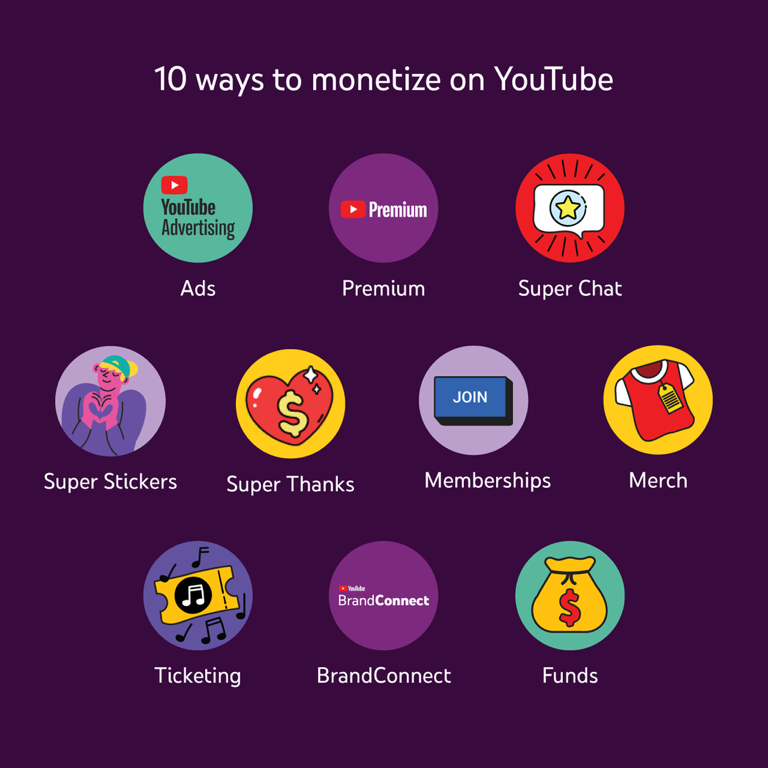 Bottom line #2: This may appear like the perfect (low-risk) model, but there are unique challenges to dealing with user-generated content.  For example, in the first half of 2021, YouTube's system caught 729M (4M/day) copyright infringements.  They had to deal with 3.6M+ appeals from creators leading to 2.2M claims being overturned.
Mr. Screens playlist: The Soothing, Digital Rooms of YouTube
Video: Spaceship Bedroom Ambience | Sci-Fi ASMR Sleep 10 hours (part 2)